Personal / Business Email Hosting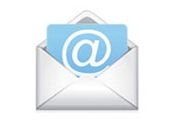 If you plan to have emails for your own domain name, we have a unique configurator which allows you to select exactly how many email accounts you want, and how much space you need across all these accounts.  We assure you will not find a better, more flexible and economical offer anywhere!
Charges are a paltry $2 per mailbox per year, and an equally modest $4 per 1 Gb space per year! (Resellers Contact us for bulk pricing)
For example 12 users with 3 Gb total space will cost $36 / year.
Custom build your plan the way YOU want! Pay only for what you want to use. Why limit yourself with something like a fixed 1Gb mailbox which some people advertise as a standard offering? We can give you a single 100Gb mailbox if that's what you need; or 1000 mailboxes within 1 Gb total space (if your usage is miniscule). You decide.
Need to synchronize your emails across your mobile, your tab and your desktop? Its possible! Using IMAP you can view all your sent and received emails from anywhere, POP3 and SMTP support is also included.
Additional benefits:
Upgradable / downgradable anytime. Pay only the difference or get excess credit added to your account.
99.9% Uptime guarantee.
Free SPAM and virus protection inbuilt (97.5% Guaranteed Spam Detection and almost 100% Virus Detection).
Free Control Panel for easy management.
Unlimited email forwarders, autoresponders and email aliases.
Variety of webmail clients like RoundCube, Horde and Squirrelmail.
Compatible will all email clients like Outlook, Thunderbird, The Bat, Mac Mail
Amazing Support!
New Plans: Due to popular demand we have introduced some default plans which you can choose for your convenience. We are giving around 25% discount on these plans (as compared to configurator pricing). However, you can upgrade or downgrade within these plans only. Check out the plans below: